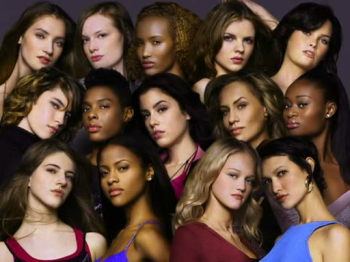 Allison Kuehn talks about 'America's Next Top Model' ouster, regrets

By Christopher Rocchio, 03/07/2008

Allison Kuehn's modeling experience in the Asian market wasn't enough to keep her in the running as an America's Next Top Model runway wannabe -- a sentiment she may disagree with but can do nothing about.

"The judges had their own opinion as to who had more potential over the others for modeling, and it's their show," Kuehn told reporters during a Thursday conference call.  "They're allowed to kick off whoever they like."

The 19-year-old hostess from Waunakee, WI became the second contestant eliminated from America's Next Top Model's tenth season during Wednesday night's broadcast after being unable to translate her talent to the photo shoot and failing to thank the judges after they gave her a compliment during panel.

"I would have thanked the judges relentlessly," said Kuehn.  "I really was so nervous and intimidated standing in front of them that I really didn't hear the compliments and the comments they were making... It's one of those small things that I really wish I would have done differently."

Unfortunately for Kuehn, her short-lived stint on the show will probably have viewers remembering for her problems with Fatima, a 22-year-old student from Boston, MA.

"I wasn't really out to get Fatima.  She got into it with a couple of the girls, and unfortunately, I was one of them," explained Kuehn.  "They did highlight a lot of the drama on the show -- and that drama sells -- so that's what aired, to get people to watch.  But I wouldn't say it was quite as crazy and intense as it was on the show."

During Wednesday night's episode, Fatima made an ill-advised comment about Kuehn's weight, which wasn't well-received since she previously struggled with anorexia. 

"When I was auditioning -- at the semifinals -- that's one of the first questions [Top Model creator and lead judge Tyra Banks] asked me.  Unfortunately that did not get aired," said Kuehn, explaining the other girls were aware of her history with an eating disorder.  "I wasn't waving it around, but it wasn't an unknown fact or anything."

Because Kuehn didn't appreciate Fatima's comment, she exacted revenge by reenacting their previous altercation via dolls she brought with her -- an African American doll and a Caucasian doll. 

"I like to take it in the back because I'm black!" said Kuehn as she played with the dolls during the broadcast.

"It was very immature and I'm kind of disgusted with myself that I did it," Kuehn told reporters.  "It was a retaliation because what Fatima said, it really pissed me off.  I was more acting on impulse than thinking and then doing it.  It's just one of those things that you really regret doing -- and I do."

Kuehn said she was so embarrassed by the scene, she had no desire to relive it.

"I couldn't bring myself to watch the first part when all the drama was going down," she said.  "I barely got through watching myself being eliminated.  I tried to avoid it as much as possible."

While Kuehn may have previous modeling experience, Top Model's rules didn't prevent her from auditioning.

"I didn't have any modeling contracts at the time, so I thought I was in the clear to tryout and I did," she explained.  "I was just kind of browsing online during Season 9 -- scoping out the other girls because I was a fan of the show before. I looked and saw that there were tryouts in Chicago, so I said, 'Why not give it a whirl?'  I surprisingly made it into semifinals and into the house."

Kuehn said she wanted to try Top Model to "get more exposure and to expand" her career as a model.

"I was confident that I could do it," she said.  "I had good height and I thought I had a pretty good look -- unique enough but very marketable and pretty versatile."

Despite the fact she didn't last very long, Kuehn said she still learned to be "more fluid" when being photographed.

"I learned to be more relaxed -- more natural -- in front of the camera," she said.

Kuehn said she was probably closest to Whitney, a 20-year-old student from Atlantic Beach, FL who is serving as the tenth-season's plus-size model, and Lauren, a 22-year-old artist from Brooklyn, NY.

"Both of them are different," Kuehn told reporters.  "Lauren's the more alternative, punk girl -- and we haven't had an alternative girl win.  We have yet to see a plus-sized win as well.  So we'll see how far they make it and I hope they do the best."

As for what's next, Kuehn said she plans on taking her previous modeling experience and Top Model appearance to land a job on the runway.

"Right now I'm kind of working on my portfolio, shooting with photographers," she said.  "Hopefully I'll get signed sooner rather than later."


Source.